Anthony Principe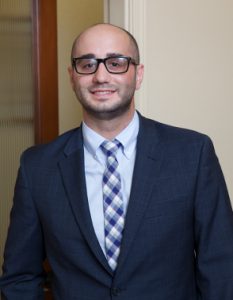 Though born in Baltimore, Anthony is a long time California resident, having been raised in Napa. He graduated from Cal Poly, San Luis Obispo in 2012 earning his degree in History with a focus on Africa and East Asia.
For law school, Anthony attended the University of San Francisco where he earned academic honors and received CALI Awards for the top grades in his class for Contracts and Health Law. While at USF, he earned experience interning with a firm in San Diego that specializes in business and real estate transactions. During his third year of law school, Anthony was hired as a law clerk for the California Public Utilities Commission where he learned the nuances of government regulation and specialized in energy law and telecommunications.
Upon graduation from USF, Anthony passed the California Bar Exam and was admitted to practice law. He then was hired as an associate attorney at a San Francisco boutique firm that practices landlord-tenant law.
Anthony currently focuses on civil litigation, general business transactions and estate planning. When he is not practicing law, he enjoys traveling, reading, cooking, playing with his dog, Olive, and rooting for the San Francisco Giants and Golden State Warriors.
Contact: APrincipe@KirkSimas.com
Practice Areas

---
Civil Litigation
Real Estate
Business
Estate Planning

Education and Licensing

---
B.A., History,  California State Polytechnic University, San Luis Obispo (2012)
J.D., University of San Francisco School of Law (2016)
Member, State Bar of California

Civic Activities

---
Northern Santa Barbara County Bar Association